The article on «anti-francise» became one of the most popular materials of www.vc.ru over the past week! Thanks to everyone who showed their keen interest and participated in the discussion in the comments. Below are a slightly abridged translation.
Coffee anti-franchise or long live individuality!
I got interested in the theme of the acquisition of various franchises after my close friends, whose children have grown up to the age of an earning money to live independently, several times invited me as a business consultant, waiting for an expert to answer the question: «To take or not to take the franchise? And if we take it, which one?».
The younger generation which does not get disconnected from the social networks, found it a tempting offer to open a franchise as their own business – a «coffee to go» sales point. This idea has been picked up on the web-site «VKontakte. For parents, it is encouraging to hear that the children want to «develop their business by buying a franchise that guarantees success», but our generation can't be fooled by these tricks. Our «internal filter» was originally set up to fight the tempting offers from the category of «Pay me and become rich», being affected by business experience in the 90s. It was curious to see what «VKontakte» had to offer. Alas, the more I studied the issue, the more i got turned away from the idea of such a franchise.
Opening a cafe or selling «coffee to go» is the perfect solution for today's market, but why use franchise for this? Moreover, why this franchise should be bought from a person whose only «social capital» comes in the form of a 150 000 subscribers of his VK-page? A neat attempt to combine infobusiness and franchising, but the gain in this case clearly goes not the franchisee. After all, the main value of the franchise is that the fledgeling entrepreneur is being carefully led past the pitfalls of a particular business, which in the case of low-cost franchises nobody is going to do.
Tale of the «Naked King»
But let's get back to the coffee. Coffee is very marginal product. For professionals  of HoReCa it is an open secret. The cost of a cup of coffee sold for 90-110 rubles starts from six and almost never exceeds 30 rubles. Coffee is also one of the few products that showed an increase in sales in 2015. In particular — coffee sales in the shops at gas stations, where, for a moment, product range of shops and cafes is close to 3 000 SKU. Of course, coffee is a great locomotive sales  for cross-selling. And the idea to do such activities as selling coffee in the format «take and go» is good by itself because it's affordable and highly in demand by customers.
But have you ever thought about why full-fledged franchise of coffee shops such as «Shokoladnitsa» is worth 6 million rubles and the numerous «coffee to go» franchises — only 60-80 thousand? The difference is not only in the cost, but also in the approach to business and in the presence (or absence) of a system. Many coffee franchises in fact are no more than a proposal to open a strictly coffee sales point, in fact it's a soviet kiosk «Beers and beverages». What know-how and technologies are there to be found? So why give money to god knows who for god knows what?
Pseudo-franchisors are not shy in advertising their franchises, saying: «Full-scale coffee shops ask for their franchises millions of rubles, and we offer you the coffee business for 60-80 thousand — feel the difference!».  And there's really the difference between the two. It is hidden in the fact that «coffee in a cafe» and «coffee to go» are two incomparably different models of building the coffee business.
«Coffee to go», «Coffee at the gas station», «Coffee in a large shopping mall» – it's a threading automated model of beverage preparation, for the success of which it is important to minimize the human impact on the final result, as well as the speed of the coffee beverage delivery in conditions of high traffic of orders.
Simple rules for the organization of such a «coffee» point:
— professional automatic coffee machine,
— coffee blend specially designed for automatic coffee machines,
— proper setup and remote monitoring of the coffee machine which guarantees the «right» service and prevents minor tweaks of personnel, you can also add «branded» consumables to it.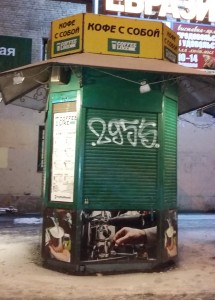 «Coffee to go» kiosk, St. Petersburg, Sennaya Square, February 2016
«Simple rules» are perceived in a couple of days of a careful study of the subject. This is a part of the business which is already visible to anyone. Paying money for such knowledge? Nonsense! Of course, in each case there are still many hidden details. But does the franchisor, who is throwing dumping offers at you, warn you about them? In dozens of «cheap» franchise, which I have studied, I did not see it. Instead i saw franchisor's disguised desire to make money supplying coffee beans, branded paper cups and other «branded» consumables that any entrepreneur can easily buy on his own at a lower price.
Simple statistics: according to the National Agency for Financial Studies (NAFS), only 16% of entrepreneurs are turning to franchises because  they «do not know how to organize the business on their own». Most reasonable people understand what they have to do, and hope to get a «hidden» knowledge and experience.
Fast food is not that simple as it seems
Then I expanded the franchise market research, examining proposals for fast food segment. Franchises in the catering are very popular, especially because catering showed growth in 2015. Fast food is not as primitive as it may seem at first glance. This is a high-tech field of activity, with all the appropriate equipment, ingredients, and specially trained personnel.
A couple of examples. Cutting-edge fastfood sausage must withstand freezing and «know how» to remains well cooked for 4-5 hours on the frying surface of the shelf. This is achieved by using calibrated recipes, the slightest deviation from which leads to the loss of the presentation.
The coffee machines may cost 50 thousand rubles or even a 1 million and both of these will be branded as «professional» solutions.
We have already passed the stage of experimentation with the equipment, so we know that pressing the setting buttons doesn't  lead to a change in the taste of beverages produced by the machine of the Asian production.
 If you want to offer customers a delicious cup of coffee:
— You need to buy an expensive coffee machine, German or Swiss-made one.
— Select the appropriate quality for the grain, specifically designed for automatic coffee machines, properly configure the machine/
— Сonnect remote monitoring of coffee machines for efficient equipment operating. This is a great IT solution allowing to eliminate theft by personnel and maintain expensive hardware in a timely manner.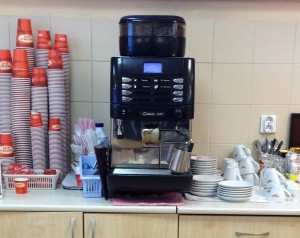 The machine is set to a certain level of temperature depending will the coffee be poured to paper cups or ceramics. We will give no comments on the organization of the space.
Even with the simple pastries like donuts, where it seems enough to use only the dough and the oil you may have problems. Not every room can harbour a kitchen hood, which means that the products will either be brought from elsewhere … or defrosted in place. Modern technologies create an effect of fresh baking. When you look at the windows of modern coffee shops, it seems that numerous cakes and pastries just came out from the oven, baked by an experienced pastry chef. But in fact, most of the product are defrosted and then placed in a special display case, with a special microclimate, where «fresh» baked is patiently waiting for its buyer.
The aroma of baking affects sales. Think about it, if the institution does not bake anything, and there's baking smells – where does it come from? Right, there's aroma-marketing being used. Even the color of the backlight of display cases affects the buyer. I tell this to the fact that conveying such business subtleties is a precious knowledge. Implementing the technological requirements by half or even 90% — means to spoil the whole thing and to serve the consumer with the product which not only does not meet his expectations, but also fails to correspond to the standards of Rospotrebnadzor.
Saving on hot coffee
At a gas stations chain they installed expensive coffee machines, but decided to pour coffee at the same time in the porcelain and paper cups. Do you see the trick? That's right, you do not see it. You still do not know that the head of the non-fuel businesses of these stations struck out of the list of equipment the rack to preheat the cups. What an overindulgence – to warm up the cups! By the way, a special rack for heating coffee cups and diches costs about € 2000. The savings is obvious, and a normal consumer still does not see anything suspicious. It is very cultured and civilized, coffee to go is served in the paper cup and coffee to be drunk in a coffee shop — in porcelain.
And now let us turn to the practice. If the coffee machine is configured to pour the coffee into ceramic utensils without preheating, the temperature of the beverage is defined as hot. Physics, seventh grade. The cup has its own heat capacity, and if it is cold (since they don't use heating rack), the initial temperature of the beverage should be higher, otherwise the visitors will complain about cold coffee.
Now, if the coffee is poured into a paper cup, the beverage will be scalding hot, because the heat capacity of the paper cup is significantly different from the heat capacity of a thick-walled cup.
By the way, did you know that the cups may be of a single and double layer? Double-layer cups are specially designed for hot drinks and does not burn his hands, but the manager of the gas station chain once again saved some money by replacing the two-layer cups by cheaper, single layer ones. On a scale of hundreds of stations he got substantial savings. And with it — at least hundreds of thousands of rubles for loss of profits due to the fact that customers are massively dissatisfied with the quality of drinks and service that they recieved in this chain of filling stations.
Needless to say, that the gas stations chains, which are developing their non-fuel businesses and pay due attention to the cafe, pour all the coffee into two-layer paper cups and do not use any of pottery? It's not about the «culture and civilization», but simply about the knowledge of the technological aspects of the business for the institutions of a particular format.
Gas station cafe – owning a business or buying a franchise?
Some gas stations chains employ the franchise system. Majors (vertically integrated oil companies) give remote and inaccessible stations under the management of individual entrepreneurs. In some cases, this is the only opportunity to achieve efficiency in terms of sales of a loss-making station.  The topic of cooperation with the filling station by «Cafe» category always been close to me.
In the world market the leaders in fast food have partnership programs with gas station chains, but let's look at the real possibility of such cooperation. For each partner, whether it is McDonald's, KFC, Burger King, Autogrill, or someone else, you need a separate room of a large area. While most of the gas stations have sales areas of 30-80 square meters, and on this territory should be placed not only a caf?, but also a shop. No fast food operator is able to expand business in such cramped conditions.
Therefore, the majority of gas station chains have found a way to develop their own direction of «Cafe». With the right business' organization selling coffee at the stations may earn from hundreds of millions to several billion rubles a year. Hot dogs and fresh baked goods will be able to bring similar profits.
You want get done it well? Do it yourself!
Coffee in a conditional «Shokoladnitsa» or coffee to go — are two different drinks, which you can prepare deliciously and sell profitably, but it is necessary to take into account the details of each of the sales model. Solid franchise network players capitalize on brand recognition, unique technological processes, optimized supply chain of many ingredients and components. But such major franchises are quire few — a dozen at the most. Our market is currently swamped with pseudo-franchises created by enterprising crooks who do not have any real competencies. After a detailed analysis of proposals for the franchise in «my industry» I am even more cautious about  the proposals in fields unfamiliar to me. For example, upon closer inspection, it turned out that in addition to the HoReCa segment, there a lot of «naked kings» in the segment of hostels, car-care centers, beauty salons and other.
Franchise market has changed under the influence of the crisis, the level of requirements got lower as for the franchisee, fairly low level of investment offers appeared. But the world which is composed of standard pieces of the same type design solutions will be dull and boring. Look at Italy — this is probably the most «coffee» country in the world where most coffee shops are unique, and this is their charm. Think carefully before you «stand under the banner» of a foreign brand — maybe you are able to offer your own ideas and not someone else's? Do not be afraid to express yourself and learn the business thoroughly, it will bring invaluable profits. And if you decide to take the franchise — select offers from people who understand how to do business in your chosen industry and have experience in the successful launch of the projects during the last 10-15 years.
Thank you for attention.)