Walmart to create its own network of filling stations
What is more important for a modern gas station- gasoline or store? For western retailers this issue has beenresolved long ago. Fuel sales attracts more buyers, increasing efficiency and allowing the store to recoup substantial part of the costs for the maintenance of core business. In the Russian consciousness gasoline has the added value that is not comparable to any «related» business. The top priority for any manager of Vertically Integrated Oil Company will be the fuel. Why? Because the fuel is a staple of any oil company focused exclusively on oil production and refining.
In the West there always have been the retailers owning gas station chains. Thus it is not surprising that the development of its shops and cafes is considered by them as a priority business. (Couche-Tard, Costco, 7-Eleven, Tesco). The combination of classic retail and gas stations works well at improving the traffic in shops in terms of attracting additional customers. In Russia, such a model was implemented by «Lenta» and Neste without unified business management center, each of the partners was to manage their part of the project. But we must remember that Walmart is the world's largest business network, the scope of future reforms is impressive.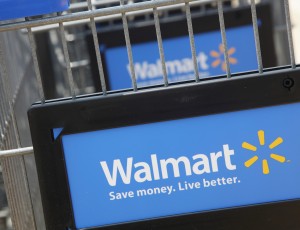 You want something done well — do it yourself
Walmart is actually far from being a novice in the development of the gas stations, located on the territory of shopping centers. The retailer built stations near many wholesale stores under Sam's Club brand which is Walmart's subsidiary. These stations were run by a known fuel sales operator — Murphy USA.
In 2016 Walmart announced that it will now organize a gas station almost at every store or mall they have and thus abandon Murphy's services. This step is dictated by the fact that the retailer wants to fully control the process of creating and managing their gas stations chain. In addition Walmartis a discounter, which will pursue its policy of low prices everywhere. A large number of gas stations under the brand name Walmart will give the company an advantage in negotiations with suppliers of fuel and would lead to lower purchase prices.
This strategy fits perfectly in the current market realities for Walmart. The company refused to develop the project of building a "walking distance from home" shopping network,a number of such stores were shut down. Soit needed another idea, which will revitalize the business, help to avoid the risks of stagnation. A chain of gas stations of its own turned out to come in very handy.
In Russia there are many large retail chains as well. In terms of density ofshopping malls St. Petersburg holds almost the first place in the world, nowhere else there's such a concentration of big retailers. But I doubt very much that the strategy of Walmartcould be repeated in the Russian realities. US fuel market standards allow owners of gas stations the flexibility to set prices, therefore, allow to sell the fuel significantly cheaper than the average price.
Russian fuel market is designed in the way so that all the basic income is «hidden» by oil companies in the wholesale price. If a private station (or franchisee of a known chain) earns 4 rubles per liter of fuel, it can not give a discount of 2-3 rubles and kopeck-worth changes are usually not seen or felt by the customers. In Russia, any retailer will have to take the fuel from the wholesale structures of Vertically Integrated Oil Companies, in other cases the quality of the purchased fuel can be unpredictable. As a result, the possibility of selling gasoline at prices significantly below market is absent from Russian retail realities.
I often take part in the discussions of the «Club of experts on non-fuel business of gas stations», where «private traders» are actively lobbying the decrease of gasoline prices as a result of lower oil prices. They're absolutely not considering the fact that fuel prices in the domestic and foreign markets are fundamentally different things. In order to domestic gasoline prices should vary according to the market prices of oil, the entire system of motor fuel taxation should be changed in Russia. Now the taxes take up to 75% in the price of domestic gasoline. As far as I am capable of assessing the economic situation the pricing structure is not going to be changed in our country anytime soon.
On February, 26 the State Duma adopted in the first reading and in general the law on raising the excise tax on gasoline of various grades, diesel and middle distillates. The Finance Ministry believes that by increasing the excise tax on gasoline prices could rise by 6.5-7%.
So the retailers do not even dream of attractingthe customers with cheap fuel. And with all the other product categories (private label goods or coffee) one should work very hard in order to make profit out of it. To sell coffee with buns effectively is more complicated than to sell gasoline with a discount. So, copying the external parts of this kind of projects will not work. Then the question rises: «Why is it also important for our market?».
Petrol is not fashionable
I will state the fact that for many of my fellow oilmen might come as a surprise. In the modern world hydrocarbon production business is not trendy and does not get you the expected reverence. Large and reputable companies are increasingly refusing to invest in companies dealing with fossil fuel. University of California, Los Angeles got rid of their investments in projects related to coal mining, the head of the Rockefeller family sold its «generic» stock of ExxonMobil.
Municipality of Copenhagen, Oslo City Hall are going to get rid of their oil assets. There is a whole world movement, which equates fossil fuels production to the arms trade, tobacco and alcohol. Yes, it is legal, but there are too many «buts».
We all have to gradually learn to live in a world where there is no priority «by definition» for hydrocarbon fuel. Walmart initiative is a momentous case, once again confirming the main direction of development of the fuel retail — step-by-step stations are converted into retail facilities, for which the non-fuel business is more important than the fuel.
Published >>