The world's coffee giant seems to have serious intention to conquer the Chinese coffee market by means of mobile technologies. The company is launching its new "Sayitwith Starbucks" service in collaboration with the largest social network in China featuring over 846 million users.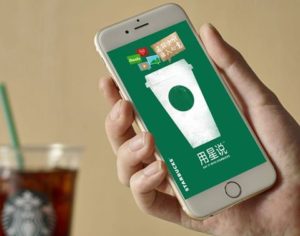 Many efforts have been made to conquer the Chinese market. However, it remains a "die hard" for the majority of foreign companies. Most of them are still hopeless to have their representation in various niches.
The coffee market is not an exception. The challenge seems to be rather tough even for major players due to the fact that China features a selection of award-winning domestic brands that are extremely hard to complete with especially considering the inner market tendencies and particularities. In other words, Chinese customers have a wide option of service providers that satisfy them.
We have the example of some major social networks like Facebook. They are still unable to occupy the Chinese market while being unable to complete with local social giant Weixin. The platform operates within the country only and features over 846 million domestic users!
On the other hand, theChinese market has an enormous potential from business perspectives. It constantly attracts coffee market leaders such as Starbucks. The company appeared to be a business daredevil. It takes another effort to grab its niche and get a piece of the Chinese pie in collaboration with Weixin. Both companies have already announced their partnership in December 2016.
Starbucks Strategy and Implementation
The idea looks rather simple and efficient at the same time. Starbucks has developed its new mobile solution also known as "Sayitwith Starbucks". Weixin social platform will provide an access to this solution to all its users. In other words, over 846 million people will have a chance to use the application within the Weixin network. This is the main reason for two companies to team up.
The mobile app lets users send gifts and congratulations on various occasions letting them express their love and gratefulness to the dearest people. Customers can exchange gifts within the network or change them into coffee specialties in any Chinese coffee shop under the Starbucks brand. Every gift card will feature company's logo. Although the idea looks altruistic and generous, it is nothing but another marketing campaign to increase the level of brand's recognition.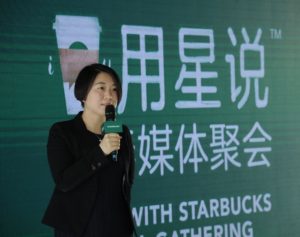 Starbuck's CEO in China Belinda Wong shared her thought about the new project. She believes that their mobile solution is a great opportunity for users to express their feelings in the most unique and original way. Couples may use the gift cards to say about their love or express gratitude to parents. At the same time, Wong expects a better customers' impression within the coffee shop chain in China due to Wallet-function feature and some other options delivered by Weixin.
Final Word
Starbucks will be the first ever company to receive a huge handicap in the face of over 846 million potential customers. The idea looks rather simple and genius at the same time. We have a growing number of mobile users on the one side and an increased volume of coffee shop customers. Now, bring all things tone place and we will get an example of amagic formula that may guarantee 100% of business success for the company!